There are many occasions on which a Captain will need to rely on the Skills of his or her Crew to overcome the numerous challenges standing between them and greatness as a Star Trader. Skill Tests refers to testing of the Skill total of the entire crew, in which any character who has that Skill is able to contribute dice to the test attempt. To pass a skill test, your roll must have more successes than the game world. (Ties go against the player.)
Skill Tests include:
Skill Save Talents
[
]
Before examining the various situations in which a crew's skills are tested it is important to note that there are many Talents that can provide an automatic save in case of a failed skill test. Some of the variety of situations in which the saving Talent may be applicable are listed in the the Talents description. However, it is important to note that whenever a Skill is tested in the group mode that Skill Save Talents may be used to turn a failed attempt into a success.
These talents have a cool down period so a single Skill Save Talent cannot provide perpetual protection against failures. Therefore, consider having multiple crew members who have the same Skill Save Talent in order to avoid failures, which can be especially important for the regularly occurring deep space Skill tests.
Note that when these saving talents are triggered, you will not gain experience as you would have if you had passed the save naturally. Additionally, there is a chance that you will still be penalized a very small amount of fuel as though you had failed the skill save. Finally, these talents do not save you from additional time passing due to the failed/rescued roll. (This matters mostly when trying to make an extremely tight deadline, but also plays a tiny role in staying ahead of the difficulty curve.) In short, it is better to naturall pass the rolls than to rely solely on skill save talents.
Deep Space Skill Tests
[
]
When traveling through deep space and landing, the crew will encounter many different events which could damage the ship, wound the crew or decrease crew morale, potentially leading to non-functioning Ship Components, crew incapacity, death or even a Mutiny. These events are described in the scrolling event log visible in the bottom right of many screens. These events test only the crew skills and use the Skill Pools of the ship to determine Strong and Standard dice. Skill Save Talents can help pass many failed deep space skill tests.
Larger crews will have harder social tests (Intimidate, Command, and Doctor tests) while other, mechanical tests will be scaled against ship size. All tests gradually get harder over time.
Mission Skill Tests
[
]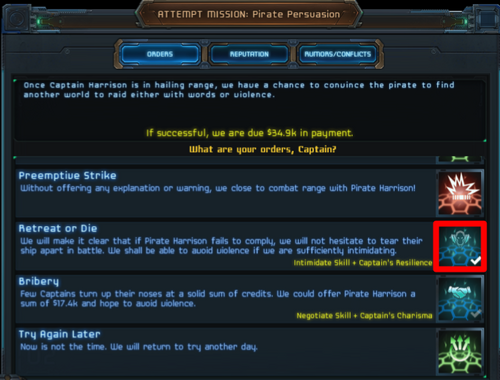 When completing many missions the Captain will have the opportunity to chose between various options, testing a combination of different skills and attributes. In these tests, it is the Captain's Attributes that are tested and the ship's cumulative skills that are tested.
Though both skills and attributes are tested, it is possible to use the Skill Save Talents to pass these tests. If a save talent is available a checkmark will appear in the option icon.
Operation Results Skill Saves
[
]
Operations include Spying, Blockading, Patrolling, Exploring and accessing a Black Market. They use card games to determine the results of each operation and often negative cards will be drawn which can damage the ship, wound the crew or wound the captain. The results of these cards have a chance of being avoided by testing various skills and attributes combined. The specific tests vary with each card and operation type. To understand which skills and attributes might be tested see the operation articles.
List of Skill Save Talents
[
]
| Icon | Name | Job | Required Rank | Type | Description | Cooldown |
| --- | --- | --- | --- | --- | --- | --- |
| | Never There | Assassin | 5 | SKILL SAVE | Automatically passes a failed Stealth test in any situation; including exploring, landing or during a mission | 5 weeks Cooldown |
| | Appeal to Honor | Blade Dancer | 5 | SKILL SAVE | Automatically passes a failed Negotiate test in any situation; including deep space travel, mutiny or during a mission | 3 weeks Cooldown |
| | One Step Ahead | Bodyguard | 1 | SKILL SAVE | Automatically passes a failed Tactics test in any situation, including on patrol, deep space travel, or during a mission | 9 weeks Cooldown |
| | Unwavering Attention | Bounty Hunter | 1 | SKILL SAVE | Automatically passes a failed Intimidate test in any situation, including deep space travel, mutiny, or during a mission | 3 weeks Cooldown |
| | First Aid | Combat Medic | 1 | SKILL SAVE | Automatically passes a failed Doctor test in any situation, including deep space travel, orbital ops or exploring or during a mission | 3 weeks Cooldown |
| | Aura of Command | Commander | 1 | SKILL SAVE | Automatically passes a failed Command test in any situation, including deep space travel, mutiny or during a mission | 3 weeks Cooldown |
| | Safety Protocols | Crew Dog | 1 | SKILL SAVE | Automatically passes a failed Ship Ops test in any situation, including deep space travel, landing, or hyperwarp jumps | 3 weeks Cooldown |
| | Settlement | Diplomat | 1 | SKILL SAVE | Automatically passes a failed Negotiate test in any situation; including deep space travel, mutiny or during a mission | 3 weeks Cooldown |
| | Unyielding Force | Diplomat | 8 | SKILL SAVE | Automatically passes a failed Intimidate test in any situation, including deep space travel, mutiny, or during a mission | 3 weeks Cooldown |
| | Medical Staff | Doctor | 1 | SKILL SAVE | Automatically passes a failed Doctor test in any situation, including deep space travel, orbital ops or exploring or during a mission | 3 weeks Cooldown |
| | Professional Respect | Doctor | 8 | SKILL SAVE | Automatically passes a failed Command test in any situation, including deep space travel, mutiny or during a mission | 3 weeks Cooldown |
| | Hotwire | Electronics Tech | 1 | SKILL SAVE | Automatically passes a failed Electronics test in any situation, including spying, deep space travel, or during a mission | 3 weeks Cooldown |
| | Attentive Overhaul | Engineer | 1 | SKILL SAVE | Automatically passes a failed Repair test in any situation, including wild zone repairs or deep space travel | 3 weeks Cooldown |
| | Gut Instinct | Explorer | 1 | SKILL SAVE | Automatically passes a failed Explore test in any situation; including Exploration or during a mission | 3 weeks Cooldown |
| | Scout's Intuition | Exo-Scout | 1 | SKILL SAVE | Automatically passes a failed Explore test in any situation; including Exploration or during a mission | 3 weeks Cooldown |
| | Bullseye Certainty | Gunner | 1 | SKILL SAVE | Automatically passes a failed Tactics test in any situation, including on patrol, deep space travel, or during a mission | 3 weeks Cooldown |
| | Snarling Judgment | Gundeck Boss | 1 | SKILL SAVE | Automatically passes a failed Intimidate test in any situation, including deep space travel, mutiny, or during a mission | 3 weeks Cooldown |
| | Exacting Design | Hyperwarp Navigator | 1 | SKILL SAVE | Automatically passes a failed Tactics test in any situation, including on patrol, deep space travel, or during a mission | 3 weeks Cooldown |
| | Pathfinder's Lead | Hyperwarp Navigator | 11 | SKILL SAVE | Automatically passes a failed Command test in any situation, including deep space travel, mutiny or during a mission | 3 weeks Cooldown |
| | Read Charts | Hyperwarp Navigator | 1 | SKILL SAVE | Automatically passes a failed Navigation test in any situation, including hyperwarp jumps or deep space travel | 3 weeks Cooldown |
| | Careful Testing | Mechanic | 1 | SKILL SAVE | Automatically passes a failed Repair test in any situation, including wild zone repairs or deep space travel | 3 weeks Cooldown |
| | Greaser Reaction | Mechanic | 8 | SKILL SAVE | Automatically passes a failed Ship Ops test in any situation, including deep space travel, landing, or hyperwarp jumps | 3 weeks Cooldown |
| | Wise Counsel | Merchant | 1 | SKILL SAVE | Automatically passes a failed Negotiate test in any situation; including deep space travel, mutiny or during a mission | 3 weeks Cooldown |
| | Expert Planning | Military Officer | 1 | SKILL SAVE | Automatically passes a failed Tactics test in any situation, including on patrol, deep space travel, or during a mission | 3 weeks Cooldown |
| | Expert Maneuver | Pilot | 1 | SKILL SAVE | Automatically passes a failed Pilot test in any situation, including deep space travel, landing, or hyperwarp travel | 3 weeks Cooldown |
| | Icy Stare | Pirate | 1 | SKILL SAVE | Automatically passes a failed Intimidate test in any situation, including deep space travel, mutiny, or during a mission | 3 weeks Cooldown |
| | Baleful Grimace | Quartermaster | 1 | SKILL SAVE | Automatically passes a failed Intimidate test in any situation, including deep space travel, mutiny, or during a mission | 3 weeks Cooldown |
| | Stern Leader | Quartermaster | 1 | SKILL SAVE | Automatically passes a failed Command test in any situation, including deep space travel, mutiny or during a mission | 3 weeks Cooldown |
| | Watchful Eye | Quartermaster | 1 | SKILL SAVE | Automatically passes a failed Ship Ops test in any situation, including deep space travel, landing, or hyperwarp jumps | 3 weeks Cooldown |
| | Blackcat | Saboteur | 1 | SKILL SAVE | Automatically passes a failed Stealth test in any situation; including exploring, landing or during a mission | 3 weeks Cooldown |
| | Artful Solder | Scavenger | 1 | SKILL SAVE | Automatically passes a failed Repair test in any situation, including wild zone repairs or deep space travel | 3 weeks Cooldown |
| | Dogged Treatment | Scavenger | 8 | SKILL SAVE | Automatically passes a failed Doctor test in any situation, including deep space travel, orbital ops or exploring or during a mission | 6 weeks Cooldown |
| | Experimental Treatments | Scientist | 1 | SKILL SAVE | Automatically passes a failed Doctor test in any situation, including deep space travel, orbital ops or exploring or during a mission | 3 weeks Cooldown |
| | Magnetic Clarity | Scientist | 8 | SKILL SAVE | Automatically passes a failed Command test in any situation, including deep space travel, mutiny or during a mission | 3 weeks Cooldown |
| | Seamless Coordination | Shock Trooper | 5 | SKILL SAVE | Automatically passes a failed Command test in any situation, including deep space travel, mutiny or during a mission | 3 weeks Cooldown |
| | Cunning Slip | Smuggler | 1 | SKILL SAVE | Automatically passes a failed Stealth test in any situation; including exploring, landing or during a mission | 3 weeks Cooldown |
| | Crafty Twist | Sniper | 5 | SKILL SAVE | Automatically passes a failed Stealth test in any situation; including exploring, landing or during a mission | 5 weeks Cooldown |
| | Deft Control | Spy | 5 | SKILL SAVE | Automatically passes a failed Electronics test in any situation, including spying, deep space travel, or during a mission | 3 weeks Cooldown |
| | Sly Move | Spy | 1 | SKILL SAVE | Automatically passes a failed Stealth test in any situation; including exploring, landing or during a mission | 3 weeks Cooldown |
| | Airtight Plan | Wing Tech | 1 | SKILL SAVE | Automatically passes a failed Tactics test in any situation, including on patrol, deep space travel, or during a mission | 3 weeks Cooldown |
| | Daunting Presence | Xeno Hunter | 1 | SKILL SAVE | Automatically passes a failed Intimidate test in any situation, including deep space travel, mutiny, or during a mission | 3 weeks Cooldown |
| | Famous Fury | Zealot | 1 | SKILL SAVE | Automatically passes a failed Intimidate test in any situation, including deep space travel, mutiny, or during a mission | 3 weeks Cooldown |